Local Jobs - St. Clair County, Michigan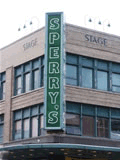 My goal for the St. Clair County area is to have a hi-tech company come to the area, hence Sperry's becomes Google. Port Huron sits at the foot of Lake Huron bringing the waters of three Great Lakes into a roaring St. Clair River which forms the eastern boundary of the city. The city is further divided into a north and south half, with the Black River as a dividing line as it's waters come gentlly into the St. Clair River.
Many businesses have come and gone to the downtown area of Port Huron, and presently can be seen several vacant storefronts in the city today.